Orange, Onion and Olive Salad (Munkaczina)
twissis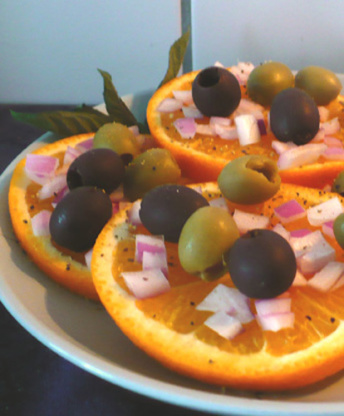 This is a very simple and refreshing salad from the Middle East. It comes from The Gentle Art of Cookery by Mrs C F Leyel and Miss Olga Hartley and was published in The Good Cook Salads.

Made for the Goddesses of ZWT-9 & I am sorry to say that DH & I are of the minority opinion on your recipe. I did use a combo of stuffed green & black olives when I saw both had been used by other chefs & I otherwise made the recipe as written. While we like all the ingredients in the recipe, it is a very easy-fix & it is visually pretty ~~ The flavor profile the ingredients created when combined was not to our liking. DH called it "wierd", but it was worth a try & I see several other chefs favored the recipe w/enthusiasm, so thx for sharing it w/us.
Slice oranges crosswise and remove seeds and white membranes in the middle of the rounds.
Arrange a bed of orange slices in a dish and cover with the chopped onion.
Place a bed of olives on top of the onion layer.
Sprinkle with cayenne pepper, salt and olive oil.