Orange Oatmeal - 2 Ingredients!
Rita1652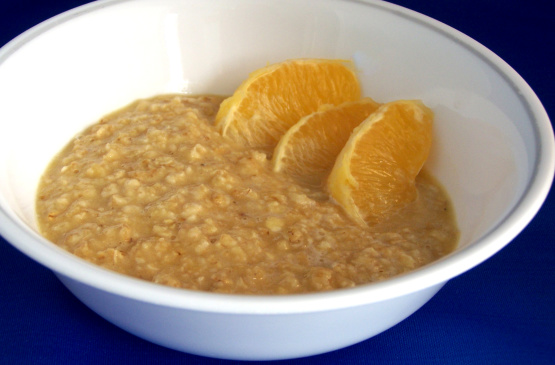 Juices high in vitamin C with your oatmeal elevates your breakfast to a super-food! The nutrients in oatmeal and OJ work synergistically to provide double the benefits. The phenols in oatmeal and the vitamin C in Orange juice both help make LDL more stable. The more stable your LDL, the less likely it is to rupture, stick to artery walls and cause heart attacks. So reduce your cholesterol! With this excellent source of fiber and good source of potassium and Omega-3. Low in sodium. Dairy free making it good for lactose intolerant!
1⁄2 cup orange juice or 1⁄2 cup peach juice or 1⁄2 cup your favorite juice

1

(28 g) packet instant oatmeal (flavor of choice try a lower sugar for your health)
Heat juice in serving microwavable bowl 30 seconds add packet of desired flavored oatmeal stirring inches Cook for 30 more seconds. Enjoy!
Yes you can add raisins, nuts to taste or any dried or fresh fruit to kick it up even more.