Orange-Molasses Glazed Chicken
Bergy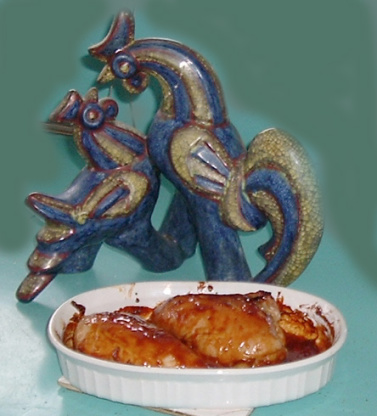 I adopted this recipe from the RecipeZaar account. I was blown away at how flavourful this dish was. Be careful not to actually burn it though as the burnt molasses taste will permeate the entire dish. ;) Trust me on that one! ---- Original Chef's notes: "This simple citrus glaze has a hint of sweetness, but also takes on a bit of smoky flavor from the molasses and red wine vinegar. The chicken turns a beautiful mahogany color, and is so delicious. From Everyday Food's January 2004 issue."

Moxie! We loved this chicken! The glaze is perfect. First off, I started with 3 cups of Sunny Delight, added the molasses, and I had to use white wine vinegar, out of red and...KIDDING, lol! I used real OJ!(but I really did have to sub white wine vinegar) The glaze is so good! Mine took longer than 15 minutes to cook down, too. I think it was because I used a saucepan, and not a large skillet--no biggie. The chicken came out moist and delicious. I will definitely make this one again! Thanks mox!
Preheat oven to 400 degrees Fahrenheit, and cover a rimmed baking sheet with foil.
Squeeze the oranges until you have 3 cups of juice.
In a large skillet, combine the juice, molasses and vinegar and bring to a boil over high heat, skimming foam periodically.
Boil until you have only about a half cup of thick glaze.
This takes 10-15 minutes.
Set half the glaze aside in a separate container for serving with the chicken.
Place the chicken breast halves on the baking sheet and season with salt and pepper.
Brush with glaze.
Bake chicken, brushing with glaze two more times, until juices run clear when pierced, 35-40 minutes.
Serve chicken hot with reserved glaze.