Zaney1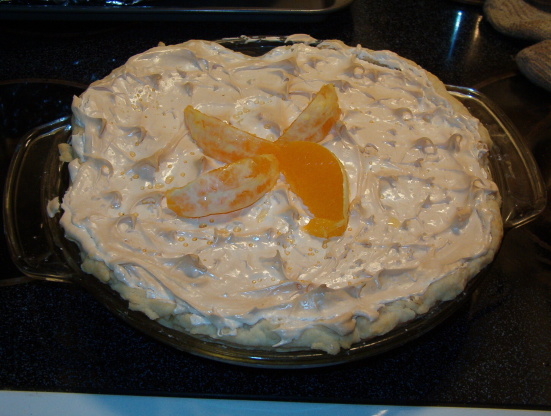 This is an Oldie from Betty Crocker's Pie & Pastry Cookbook....easy to do & a very nice change from the standard Lemon Meringue Pie.

Very good, with a very good orange taste. The orange zest can be little bit sour, so maybe next time I´ll use little bit less. A very nice change from the lemon pie!
Preheat oven to 400°.
In saucepan combine sugar and cornstarch.
Combine egg yolks, orange juice and water; stir gradually into sugar/cornstarch mixture in the pan.
Cook stirring constantly over medium heat until mixture thickens and boils.
Boil 1 minute, stirring constantly; stir in butter, lemon juice and the peel.
Immediately pour into pre-baked pie shell.
Cover completely with meringue-carefully sealing to the edges.
Bake about 10 minutes or until meringue browns lightly.
Cool on wire rack out of drafts.