awalde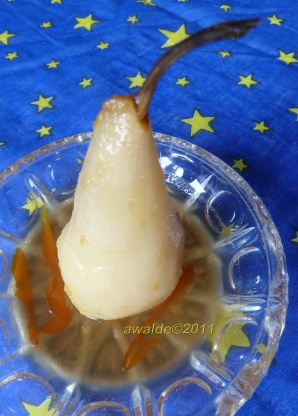 A favourite that I like to make for dinner parties.

Jan, thank you for posting this recipe. This is a dessert to make for dinner parties and can be made even two days in advance. We have really enjoyed the flavors, it reminded me of Crepe Suzette. The cooking time you stated I extended because the pears were very large and I do like poached pears to be soft, so I used my own judgement.Did not have Grand Marnier and used Cointreau.
4

firm pears

250

ml orange juice

125

ml water

125

ml dry white wine

4

tablespoons sugar

2

strips orange rind

125

ml orange liqueur (Grand Marnier for example)
Peel the pears but leave the stem intact.
Trim the base so they stand upright.
I take a teaspoon and take out some of the core too, as it allows the syrup to get right up inside.
In a saucepan combine the juice, water, sugar, rind and wine.
Stir over a low heat until the sugar has dissolved then add the pears and simmer for 20 minutes or until the pears are tender.
Baste with the syrup from time to time.
Remove the pears and increase the heat under the pan.
Reduce until the syrup has reached a more sticky saucy consistency.
Pour this syrup over the pears and allow them to cool then add the orange liqueur.
When cold remove the orange rind and serve with a little of the syrup spooned over.