Orange & Lime Ice-Cream (No Eggs, No Ice-Cream Maker)
Ninna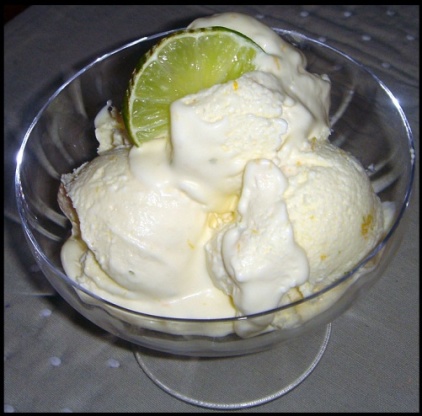 This is amazing ice-cream and very quick to prepare. I like to serve it with strawberries marinated in Cointreau with passionfruit pulp added before serving. It is also delicious with just about anything chocolate. I have tried this using regular cream but it takes longer to whip. This is so special, I hope you try it because I am sure you will make it again and again. This is taken from a Nigella Lawson recipe.

I found this to be too icy (instead of creamy) and the taste of the powdered sugar overwhelmed the fruit. Maybe I'll get better results with churning.
Grate the zest of the orange and limes, juice them and add to the sugar.
Stir to dissolve the sugar and add the cream.
Whip until soft peaks form (no longer or it could curdle) and pour into a shallow container with a lid.
Freeze for about 4 hours.
This is great even when frozen for a much shorter period and still creamy.
If frozen for a long period remove from freezer to soften for a while before eating.
Time doesn't include freezing time.