Orange, Kumara & Tuna Salad (21 Day Wonder Diet: Day 4)
Sara 76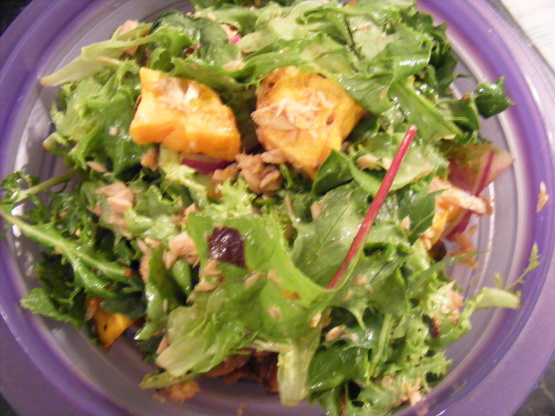 This is Day 4: Lunch, on th e21 Day Wonder Diet. You can use pumpkin instead of kumara if you like. It is best to prepare the ingredients to this salad the night before, then make the salad in th emorning for lunch. This lunch is to be followed by an afternoon snack of 125g strawberries.

This wasn't my cup of tea. I think I would of liked it a bit more if instead of tuna the fish was salmon. The tuna seemed a little dry in this. But thank you for reposting.
Preheat oven to 180C/160C fan-forced.
Place kumara on oven tray, sprinkle with rind. Roast, uncovered, about 20 minutes. Cool.
Combine kumara with remaining ingredients in medium bowl.