Orange Julius With the Secret Ingredient!
Chemaine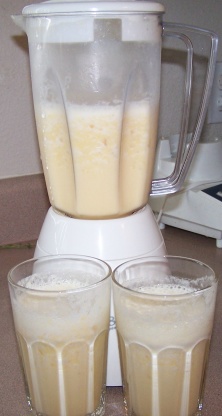 Well, I can't tell you HOW I got the "secret ingredient", but it's one of those things where you kind of say to yourself, "Now why didn't I think of that"? Coffee creamer! The powdered kind. That's it--simple I know! I grew up on these things--a must have at the mall--and trying to make them at home just wasn't quite right....try this. You may need to fiddle with the amounts some. When I make this recipe the blender is topped off - about 1/2 inch from the rim, but I don't really measure anything when I make it--i just throw stuff in until it tastes right.

We just made these and the flavor is spot on with the Orange Julius chain. I saw other reviews that it was chunky, so we put our oranges through our juicer first then put all the ingredients in the blender. Fantastic! I have another 8lbs of oranges to use up so I see more of this in our future. Thanks for posting!
5

oranges, peeled and separated

354.88

ml crushed ice

354.88

ml water

118.29

ml milk (whatever % you have available)

118.29

ml powdered coffee creamer

59.14

ml sugar or 59.14 ml sugar substitute
Add ice and water to blender and turn on high for a few seconds.
Add orange sections about 5 at a time, blending a little as you go.
Add the other ingredients in whatever order and blend until smooth.
Taste.
Add more creamer or sugar if necessary.
I use small to medium size seedless, sweet oranges.