mliss29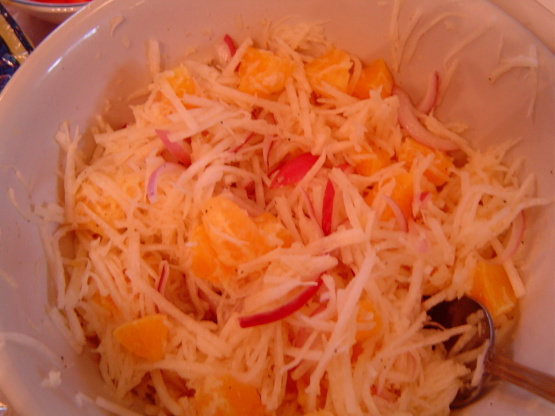 This is a recipe I found in the local paper. I was a bit hesitant to try it. When arranging it, it was so beautiful! The flavors are amazing! I ate it w/out the onion because of stomach issues with raw onions, but Im sure it was even better with the onion :-) ENJOY!!!

Wow! No fat and it taste good to. I blended the juices, cilantro and a garlic clove with the chile (habanaro)powder. Mix in the jicama to absorb some of the flavor.Placed the jicama on top of the greens then orange slices and onions. A light and very refreshing salad.
Whisk together the orange and lime juices in a nonreactive bowl, and taste to make sure you like the mixture of the juices.
If you feel it needs more lime, or more orange, adjust as necessary, and add salt and pepper to taste; set aside.
Take your baby greens (or mesclun) and divide it among individual plates (recipe serves 6), and set aside.
In a large bowl, gently toss the jicama, orange segments, and cilantro.
Drizzle with the citrus juice mixture and toss gently to combine.
Arrange the jicama mixture on top of the greens you have arranged on plates, and garnish your salad with red onion slices.
Sprinkle very lightly with chili powder.
ENJOY!