diner524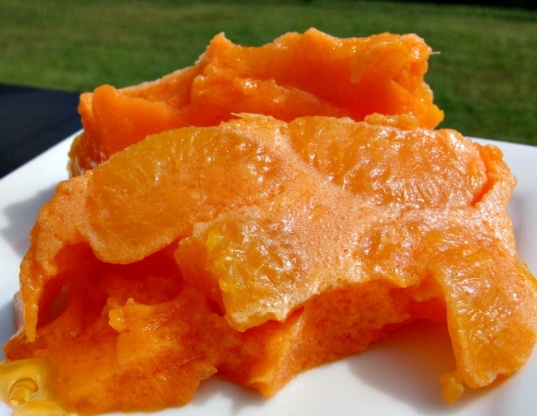 This is a family favorite, frequently served at holiday events, from my mom. This one is a bit different than the others up here - this is for real orange lovers, as every single ingredient, aside from the water, is orange! **Please Note: This needs to be chilled overnight**
OMG!! So good and so darn easy!!! I made 1/2 of the recipe, using just one box of jello and a 8 oz. can of the Mandarin Oranges. I agree with Elmotoo, a bunch of interesting combinations maybe in the future (especially thinking the strawberry banana jello with pineapple sherbet and banana slices, yum). Thanks for sharing such a yummy, fun recipe!! Made for CQ 2014.
Put dry Jello in the bottom of 9" x 13" glass dish.
Add boiling water, and stir until completely dissolved.
Add mandarin oranges, spreading them out in the pan.
Stir in sherbet until it is completely melted.
Chill in fridge overnight, until it is set.
Slice and serve!