Orange Israeli Couscous With Snow Peas
Rita1652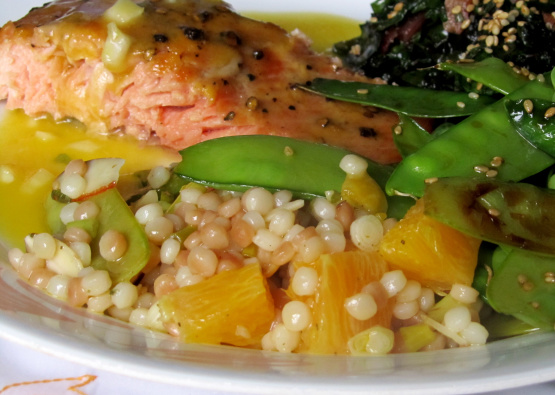 My snow peas are on the vines and I love it! This is a nice salad for a warm day. Found on a blog from laura-realgoodfood. This can be served warm or cold.
Heat some olive oil in a small pot. Add the couscous and toast for 2 minutes. Add the broth and simmer, covered for about 8 to 10 minutes. Take pot off heat.
In a salad dressing shaker or a jar with a lid, add dressing ingredients and shake.
Steam the snow peas for about 4 minutes. Put into an ice bath to stop cooking.
In a medium bowl, add the couscous, snow peas, green onions, almonds, oranges and some salt and freshly ground pepper. Reshake and pour some dressing on. Mix and serve at room temperature.