Juenessa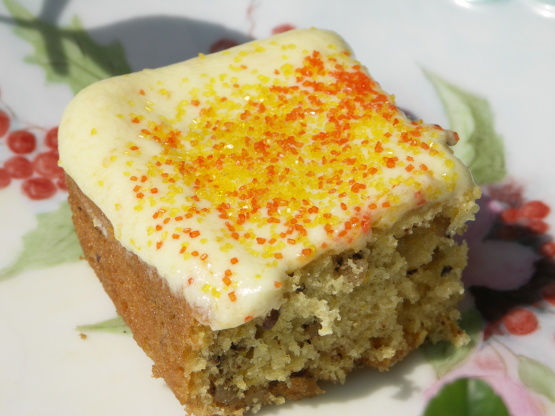 A tasty icing for a chocolate cake such as Sue B's Chocolate Cake #31804, or Kittencal's Orange Snack Cake #116990, or my Blender Orange Cake #147447. Enough to frost a two-layer cake. Posted in response to a request. To make an orange cake, use a white cake mix, use orange juice instead of the water called for in the package directions, and add some orange zest. Sprinkle top of iced cake with additional orange zest, or chocolate shavings, chocolate sprinkles, or chocolate drizzle.

I had just made a banana cake and needed an icing for it as the cream cheese frosting for our family is not to our taste. I wanted a citrus icing and when I saw this it just screamed make me! So I did tonight what a beautiful texture as I like my icing thick and very creamy and that's exactly what I got with this recipe it just mixed up beautifully! The taste is awesome I was surprised as I used allot of lemon zest and lemon juice no orange juice but it did not become overwhelmed with the lemon just perfect. foodtvfan thank you, for sharing this incredible recipe this is one I will make for years to come!
Cream the butter.
Add grated orange zest and salt.
Add icing sugar alternately with orange juice and lemon juice. You can put the sifter right over the bowl while adding the icing sugar.
Beat well after each addition.
Add a little more orange juice if required.
Beat until creamy and easy to spread.