3 Reviews
I had a lot of left-over cooked carrots, so decided to try to dress them up. I fried an onion and added the other ingredients and cooked until I had a nice consistency, then threw in the left-over carrots to heat through. It was delicious. If I had made the carrots this way to start with, there would have been no left-overs!
By the way, I have cooked grated rutabaga this way for years, but hadn't tried this with carrots.
This is a very good carrot recipe that is very simple to make. I made this exactly as posted (cutting the carrots in rounds), and was surprised at the depth of flavor that was achieved. Also a surprise was that it was not too sweet! I did halve the recipe, but plan on making the full batch for Easter dinner. Thanks for sharing. Made for Spring PAC 2010.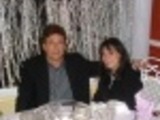 Simple prep! GREAT TASTE! I'm always on the lookout for different ways to prepare carrots, & this recipe is a great find! Don't know if it made a difference, but I used some Citrus Honey that I found at Trader Joe's the other day! Oh, yeah ~ I did sub lemon pepper for the salt & pepper! This is certainly a keeper! Thanks for sharing! [Made & reviewed for one of my adoptees in this Spring's PAC]
Orange Honey Carrots