Orange Glazed Pork and Carrots
Dorel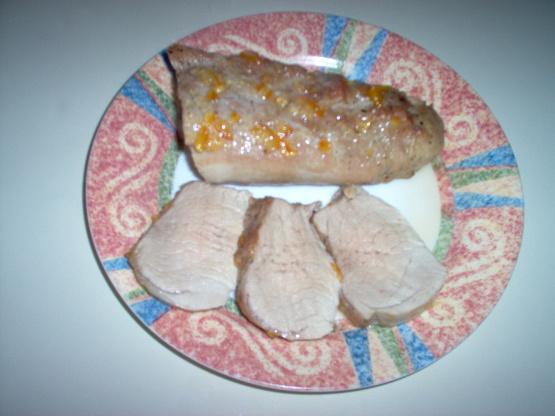 This is my adopted recipe Feb 2005 I made this today and we loved the flavor of the marmalade and ginger together. I had frozen ginger and just grated it until I had enough and mixed with the marmalade. I served this with Marg's Mash Potato Casserole #3029

Tasty, but rather sweet. I did not puree the carrots, but kept them with the pork on the platter after taking out of the oven. I then just put the pan on the stove top and let the pan juices reduce and thicken. Then I poured over the top of the sliced tenderloin, for a nice presentation.
Heat oven to 425 degrees.
Sprinkle salt and freshly ground pepper on tenderloin. Insert meat probe now if you have one.
Place in 17x11-inch roasting pan; roast 20 minutes, uncovered.
Meanwhile, cook carrots in boiling water or in the microwave until still slightly firm, about 10 minutes.
Mix 1 tablespoon water with orange marmalade, salt and ginger until well mixed.
Remove pork from oven and pour carrots in pan; spread marmalade mixture over pork and carrots, tossing carrots to coat well.
Roast about 15 minutes or until thermometer reads 155°F
Transfer pork to cutting board and cover with foil and let rest while you scoop carrots from roasting pan.
You can now add 1/4 cup water to pan juices and boil for about a minute, scraping up brown bits.
I didn't find there was enough juices to bother trying to make gravy with so I just poured what was in the pan into the carrots.
Slice pork and arrange on platter. Serve with carrots and your choice of potatoes.