Orange-Glazed Carrots With Mint
lazyme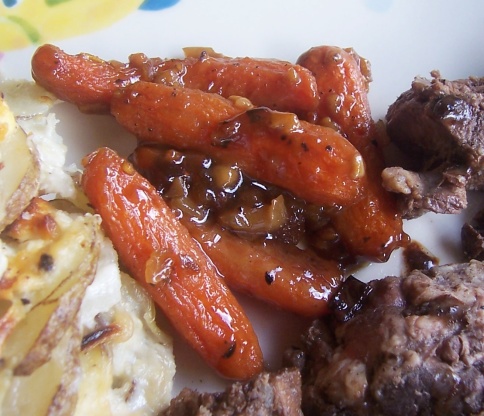 A simple and tasty side dish from Fine Cooking. I don't cut the carrots as stated, I just use whole baby carrots.
Cut the carrots on the diagonal into 3-inch lengths.
Cut thicker pieces in half lengthwise to make them uniform in size.
Heat the oil in a 9-inch saute pan over moderate heat.
Add the carrots and cook until lightly browned on all sides, about 3 minutes per side.
Season with salt and pepper.
Add the ginger, garlic, and shallots and cook over medium-low heat, stirring occasionally, until the shallots are softened, 5-7 minutes.
Add the honey, orange juice, soy sauce and water.
Cover with a round of waxed paper that fits snugly on the vegetables.
Cook the carrots slowly on top of the stove, stirring occasionally, until the carrots are tender and the juices have formed a glaze, 30-40 minutes.
Garnish with the mint.