Orange Ginger Chicken and Veggies
MsSally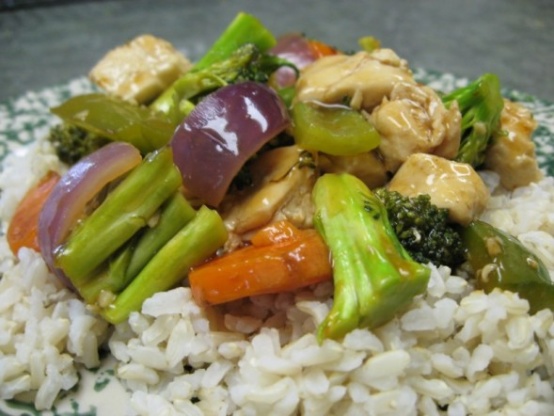 Here is a refreshing way to use leftover poultry adapted from Light and Tasty magazine. Serve over rice with a salad and you have a nice meal.
In a small bowl, combine the cornstarch, ginger, broth, soy sauce, chili sauce, garlic, and hot pepper sauce until well blended: set aside.
Put oil into a large nonstick skillet, add the broccoli, peppers, carrot, and onion; stir fry for 6 minutes or until the vegetables are crisp tender.
Add the broth mixture and cooked poultry to the skillet.
Bring to a boil; cook and stir for 3 minutes or until thickened.
Remove from the heat; stir in the mandarin segments and cashews.
Serve over rice.