Orange Ginger Brined Chicken
PaulaG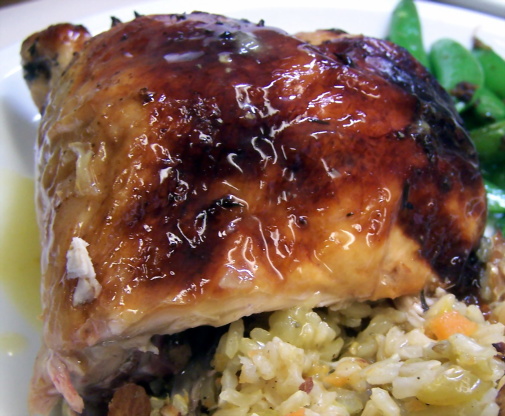 Brining chicken is a great technique for making roasted chicken extra moist! The seasonings added to the brine infuse the bird with hints of ginger and orange. Enjoy! Adapted from Cooking Pleasures magazine.

Top Review by yovose
I have followed the directions although I thought the salt was a bit much so instead of a third of a cup of salt I added a quarter cup of salt. Let it brine for 26 hours and then followed the directions from there? It looked great and the chicken was tender but it was so damn salty we gave a bunch of the meat to the dog and went out for dinner! I would write more but I have to go refill the dog's water bowl! I suggest more orange juice add more Ginger and much salt at all!
Place 1 1/2 cups of the water and 1/4 cup chopped ginger in a medium saucepan. Bring it to a boil over medium heat. Reduce the heat to low; simmer 5 minutes. Remove from the heat. Add the remaining 3 cups water, salt, 2 teaspoons orange peel, 1 cup orange juice, 1/2 cup apple juice, honey, thyme and hot pepper sauce; stir well to dissolve. Cool 15 minutes or until room temperature.
Place the chicken in a 1 gallon resealable plastic bag. Place in a large bowl. Add the brine. Press the bag to remove air; seal. Refrigerate at least 6 hours or up to overnight. Drain; discard brine. Gently pat the chicken dry.
Meanwhile, heat the oven to 375*F. Place the chicken, breast up, in a heavy shallow roasting pan. In a small bowl, stir together 1 tbls. minced ginger, remaining 2 teaspoons orange peel and butter. With a spatula, loosen skin from the breast and thigh areas. Spread the butter mixture under the skin of chicken over breast and thigh meat. Bake 1 hour 30 minute to 1 hour 45 minutes or until internal temperature reaches 180*F. Place the chicken on a platter; cover loosely with foil. Let stand 10 to 15 minutes.
Now remove the fat from pan drippings. Add 1/2 cup of water, broth, 1/3 cup orange juice and 1 teaspoons ginger to the roasting pan. Bring to a boil over medium heat, scraping up all the browned bits from the bottom of the pan. In a small bowl, stir together remaining 2 tbls. water and cornstarch; whisk into the sauce. Boil 1 minute or until thickened. Serve sauce with the chicken. Enjoy!