awalde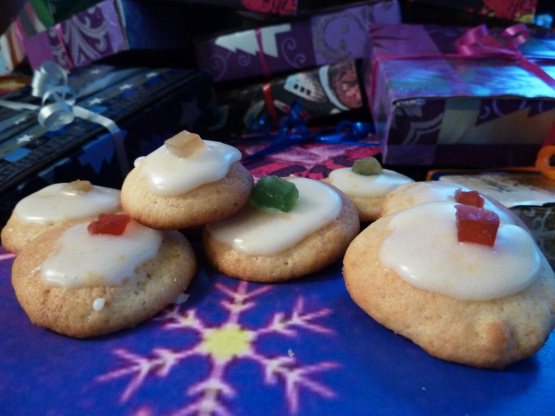 from darlene kossman it looks to be a cake like cookie very old recipe

Top Review by awalde
I prepared these orange cookies for Christmas. For this reason I tried to make them beautifu painting the gaze on each of them and adding a small piece of candied citrus fruits. They look like jewels and they taste like heaven!
I made small(er) drops with the half quantity of dough. I got 100 jewes!
Dee, thanks a lot for your wonderful recipe!
cream butter and sugar.
add eggs
add finely grated zest
add vanilla
beat all til fluffy
sift dry ingredients
add to creamed mixture alternalely with buttermilk.
beating after each addition
drop onto cookie sheet
bake in 350 degree oven for 10 to 13 minutes
while cookies are warm frost with icing
mix icing all together.