HELEN W.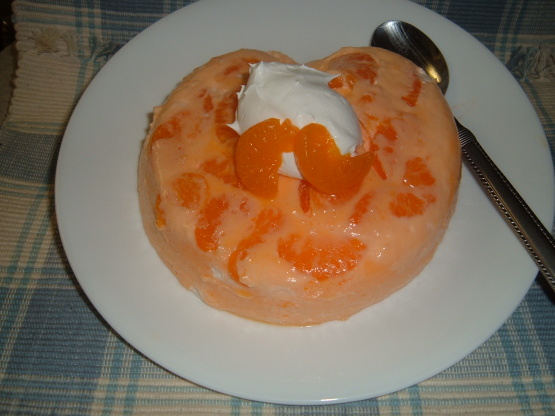 What a wonderful, lite, low sugar, low fat dessert! This is a winner, believe me! Experiment with different flavors!

Top Review by MaMere
This recipe is amazing!! Light, creamy & bright with the guiltfree flavor of orange!! To anyone making this recipe..DOUBLE it!! You won't be sorry you did..Thank You for sharing this recipe HD !! update July 2,2009..I made this with sf Lime jello & sf white chocolate pudding mix with sf cool whip and added no sugar added crushed pineapple for a twist on flavors..WONDERFUL!!
Dissolve the gelatin in 1 C boiling water.
Add 1 C cold water and let set up for 5 minutes.
Using an electric mixer, beat dry pudding mix into the jello until well blended. May have to set up for 5 minutes in refrigerator.
Fold in mandarin oranges and cool whip.
Chill either in a bowl or in individual mousse dishes.