gailanng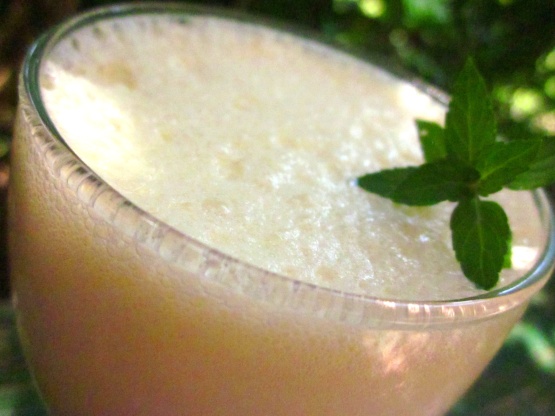 There are many recipes for an Orange Julius drink here, but none with the exact proportions or ingredients of this recipe, so I decided to post it.

I really love this! Normally I do not add any form of dairy to my smoothies but I am so glad I decided to give this a try. Since I was only making a single serving I peeled a whole orange and placed it in my Vita-Mix blender and blended it into juice first. Then I added the appropriate amount of milk, ice and vanilla. The only alteration I made was in the sugar...that I cut in a little more then 1/2 since the fresh orange was so sweet. I will definitely make this often as it is a healthy treat that everyone in my family will enjoy. Thanks for sharing. Made and reviewed for the 25th AUS/NZ Recipe Swap.
1

cup orange juice, from the refrigerated section. (Using fresh-squeezed juice makes for an even more delicious treat, do not use canned juice.)
1⁄2 cup milk (not fat-free or skim)
1 1⁄2 tablespoons sugar
1⁄2 teaspoon pure vanilla extract

1

cup ice cube
orange slice (optional)
In blender container combine orange juice, milk, sugar and vanilla. Cover; blend until mixed.
With the blender running, add ice cubes, 1 at a time, through lid opening.
Blend until smooth. Pour into tall glasses. Garnish on the rim with orange slices, if desired.