Orange Date Pumpkin Bread
Diana 2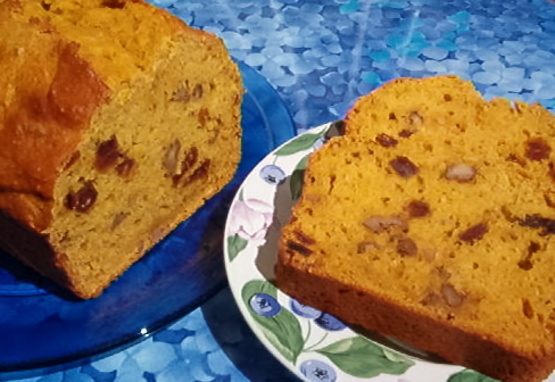 Another addition to my growing collection of pumpkin breads. If you don't like dates, raisins should also work well here. This was sent to me by BHG and though I have not tried it, I plan to do so soon with modifications as shown.

Made the full recipe, but changed a few things ~ I doubled the amount of dates (using Medjool dates) & a full tablespoon of orange zest! That, along with the pecans I used made for a wonderfully tasty bread! Do love pumpkin bread, & your recipe is a definite winner! Thanks for sharing it! [Made & reviewed in Zaar Cookbook recipe tag]
Preheat oven to 350 degrees. Prepare two loaf pans with a light coating oc cooking spray.
In a large bowl, stir together all-purpose flour, whole wheat flour, baking powder, nutmeg, salt, and baking soda. Set aside.
In a medium bowl, stir together pumpkin, sugar, egg, honey, oil, applesauce, orange peel, and orange juice.
Using a spoon, stir pumpkin mixture into flour mixture just until combined. Take care not to overmix as that will toughen the bread. Stir in nuts and dates (or raisins). Divide mixture between the prepared pans.
(Tip: Dates can be quite sticky and hard to chop. Give your knife a quick shot of cooking spray. Once chopped, mix about 2 tablespoons of the flour mixture with the dates to help the bits separate and become evenly distributed in the bread.).
Bake about 50 minutes or until a toothpick inserted near centers comes out clean.
Cool in pans on wire racks for 10 minutes. Remove from pans. Cool completely on wire racks.
This bread freezes well.