Doods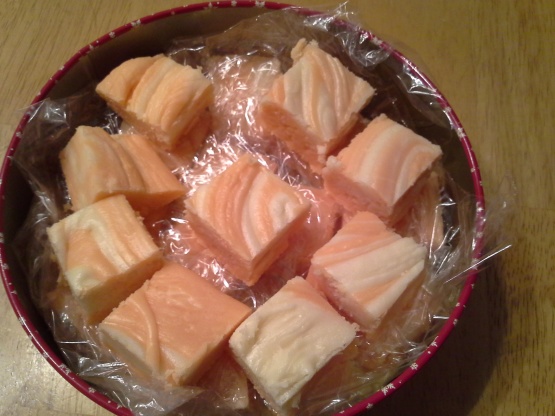 Fudge made with vanilla chips and orange flavoring.

This recipe is wonderful!! I have 5 other batches of different kinds of fudge made for Christmas and to me this flavor is best. To keep the orange extract from having an alcohol taste, add it after mixture has been removed from heat but still boiling. It will bubble up some but sure makes for a better flavor. After it set up and was sliced, I made balls out of 2 of the rows of squares and covered them in dipping chocolate. Left the rest as they were. Very happy with this recipe. Thanks so much for sharing!!
Grease 13x9-inch pan with 1 1/2 teaspoons of butter or margarine.
In heavy saucepan, combine sugar, cream, and butter. Stir while cooking on low heat until sugar is dissolved. Bring to boil while stirring, 4 minutes.
Remove from heat; stir in chips and marshmallow cream until smooth. Set aside 1 cup of this mixture. Add orange extract and food colorings to remaining mixture; stirring until blended.
Pour into the greased pan. Drop the remaining 1 cup mixture by tablespoons, over the top; swirl with a knife.
Cover and chill until it has set. Cut into squares.