Orange Creamed Rice in Dark Chocolate Cups
Um Safia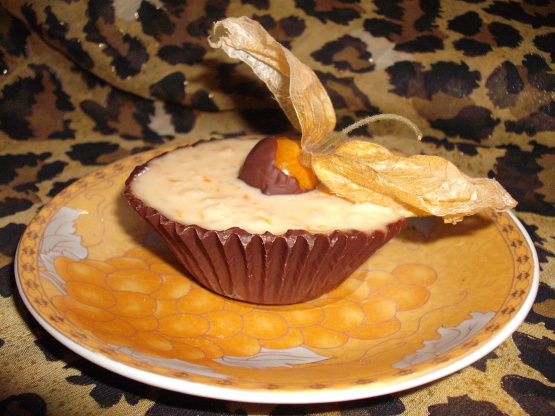 I love the flavour combination of orange with chocolate - it is such a classic combination - & that is why I came up with this recipe. There is nothing difficult about making this dessert, you just need a bit of time & patience…Time to make doesn't include chilling or setting times.
Mix rice with the milk & orange zest in a large saucepan & bring to the boil.
Immediately reduce the heat, cover with a tight-fitting lid and simmer VERY gently for 1 hour, stirring regularly.
Remove the lid and continue cooking and stirring for around 20 minutes or until the rice is creamy.
Add cream & honey and simmer for 5 more minutes.
Set the creamed rice aside to cool. Once cooled enough, place in fridge to chill.
Melt the chocolate in a bowl over simmering water. Gently dip the physalis in the chocolate then place on aluminium foil to set.
With the remaining chocolate, paint 4 paper muffin cases using a pastry brush. You will need 2 coats of chocolate to produce a strong cup. Set aside & allow to cool. For added effect, make the 2nd chocolate coat with white chocolate.
Once the creamed rice has chilled, spoon it into the chocolate cups & top with the physalis. For an alternative decoration, you can leave the physalis plain or dip in white chocolate. You can also top with grated chocolate.