gailanng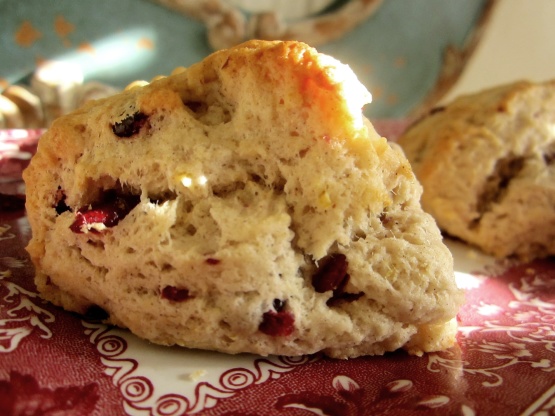 I threw this together yesterday with ingredients already in my pantry. I think this may be good with some crystallized ginger thrown in there but that's something that I don't keep on hand.

I have to say that orange and cranberries really do go great together! Especially for these scones. I didn't have orange extract, so I used some orange juice. It was so good, especially hot out of the oven with some melted margerine!
In a bowl beat together egg, cream, orange extract, orange peel, cinnamon, nutmeg and vanilla.
In a separate bowl sift together flour, sugar, baking and salt. Cut the butter into the flour until course crumbs form. Pour cream mixture into the bowl with the flour; stir with a spatula until everything is well combined.
Knead the dough on a floured surface and pat dough into a circle that is about 7 inches in diameter. Cut 8 wedges into the circle.
Bake at 400°F for 15 minutes or until done.