Marz7215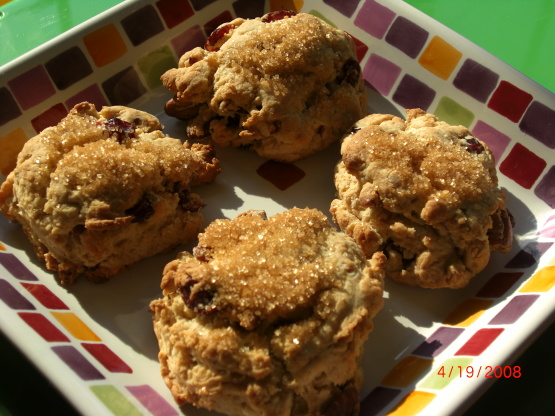 I found this on Veg Cooking Blog. I think it's from a girl named Danielle Vance. I was looking for vegan Orange Cranberry Scones and I finally found them! Hope they're good...(I guessed on the cooking times)

I've made these with and without the orange jucie and zest, with flavoured applesauce, with pecans, with varying amounts of spelt, whole wheat and all purpose flour, with brown sugar instead of maple syrup and they ALWAYS taste good. The recipe is very easy to make, very versatile and my family can snack happy and healthy.
Preheat the oven to 425ºF.
Sift together both the flours, the baking powder, and the salt in a large bowl.
Add the cranberries and walnuts. Combine and set aside.
In another bowl, combine the oil, maple syrup, and orange juice and zest.
Add to the dry ingredients and mix to form a dough.
Scoop by the tablespoonful onto a cookie sheet.
Bake for about 12 minutes, or until golden.
Let cool before serving.