Orange Cranberry Pull-Apart Coffee Cake
Mika G.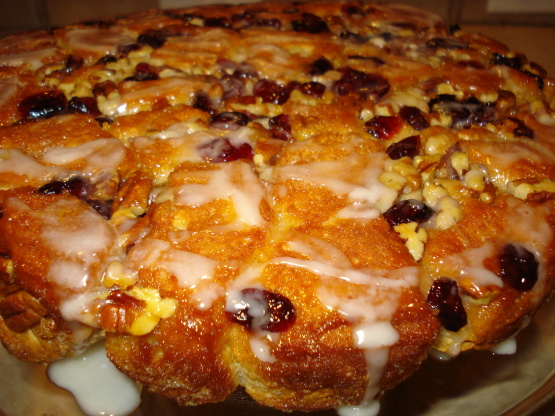 The idea for this recipes comes for Mary Tallman of Arbor Vitae, WI. Her recipe was printed in May/June 2007 TOH--Simple and Delicious. I changed from lemon to orange, used cranberries and pecans and reduced the amount of glaze. So easy and so delicious.
Preheat oven to 400° and spray a 9-inch round cake pan with a non-stick baking cooking spray.
In a medium size bowl, combine the sugar, pecans, cranberries, butter and orange zest.
Open the biscuits, separate and cut into fourths.
Toss the biscuits with the sugar mixture and pour into prepared pan; place in preheated oven and bake for 20 to 25 minutes.
Turn out on a dinner plate and immediately drizzle with glaze.
Serve warm.