Orange-Cranberry Oat Cake - Magazine Prize Tested Winner
Chouny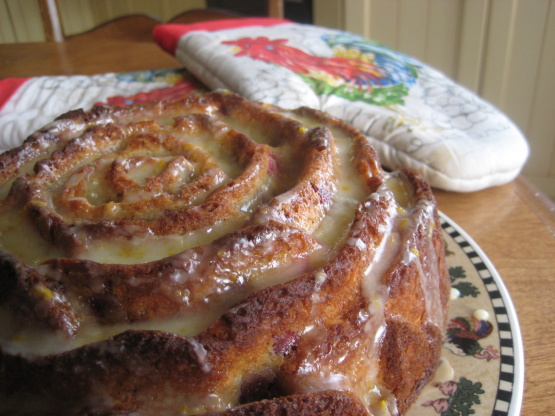 WARNING! WARNING!! WARNING!!! Do not make this cake if you are expecting a tender fine crumbed cake!!!! The cake is not very sweet, and has a dense coarse texture due to the oats and optional nuts -- the cake bursts with orange and cranberry flavors and is ideal for breakfast! Based on $200 prize tested recipe from Better Homes and Gardens September 08 issue -- tube pan category, submitted by Michelle Gauer, Spicer MN. NOTE: for a more robust orange flavor, add 1 teaspoon Orange Extract - for Your Homemade Baking Gift Baskets! -- as a personal preference, add toasted chopped nuts, if desired! -- I baked the cake in a 10-in tube pan and I think the pan is too large for the recipe. The baked cake only rose to fill the tube pan about half full -- Bake in a Bundt pan for a prettier presentation!

Top Review by Chouny
What a wonderful cake! I really enjoyed this more rustik type of cake, little tart with a bit of a crunch to it. I did not use a tube pan and had to cook the cake approximately 20 minutes more, it was a bit crunchy at the bottom but very delicious! Great with a hot coffee or tea. Thanks for posting.. great recipe.
Cake preparation:.
Preheat oven to 350 degrees.
Grease and flour tube or bundt pan; set aside.
In a bowl stir together flour, oats, baking powder, soda and salt.
In a large mixing bowl beat butter on medium mixer speed for 30 seconds.
Add 1 cup sugar; beat until combined.
Add eggs; beat until well combined.
Alternately add flour mixture and milk, beating on low speed after each addition until combined.
Toss chopped cranberries with 2 tablespoons sugar; fold into batter with orange peel, and orange extract (optional), and chopped nuts (optional).
Spoon batter into prepared pan; spread evenly.
Bake at 350 degrees for 45-55 minutes until wooden pick inserted near center comes out clean. (My cake was done in 50 minutes.) Cool in pan 10 minutes. Remove from pan ~ Cool on rack ~ while cake is hot, punch holes in cake with a toothpick and spoon 1/3 cup freshly squeezed orange juice over cake, if desired.
Drizzle orange glaze over completely cooled cake.
Orange Glaze preparation:.
In small bowl combine 1 cup powdered sugar, finely shredded orange peel, and 2-3 teaspoons orange juice to make a drizzling consistency.
Makes 12 servings.