Orange-Cranberry Bran Muffins
M in MN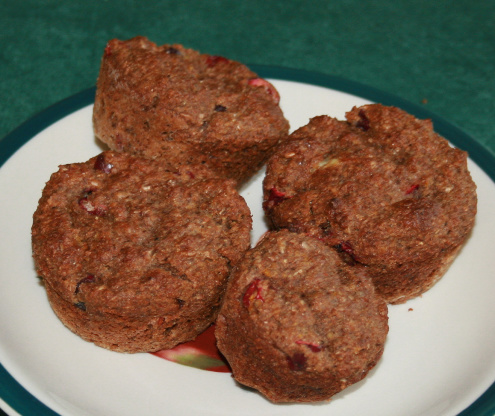 This is a recipe from the G.I. Diet book. They are loaded with fibre but taste really nice. Not a light cake like muffin. The cranberries give these muffins a nice little burst of tartness. I didn't have any fresh cranberries so I used dried.

Made as directed and they were good. The NEXT time, I changed a few things and they were better: The ginger overpowered the orange, so I cut it to 1/8 t.; increased orange zest to 1 &1/2 Tb.; and used heated OJ concentrate to replace the hot hot water. The directions did not say so, but I cut each cranberries in half. The sugar substitute I used was 1/8 c. splenda and 1/8c Stevita (stevia). Moist, dense muffins. Made 16 of them.
Preheat oven to 400°F Line or grease 12 muffin cups and set aside.
Combine the bran cereal and wheat bran in a large bowl. Stir in the boiling water to moisten and set aside for 5 minutes. Mix in the buttermilk, egg, oil, sugar substitute, orange juice concentrate, orange zest and vanilla.
In a separate bowl, combine the flour, flaxseed, baking soda, cinnamon, ginger, and salt. Stir in the cranberries. Stir into the bran mixture until just moistened.
Divide the batter among the muffin cups and bake for about 25 minutes, or until a cake tester inserted in the center comes out clean. Remove from the oven and let cook in the pan for about 5 minutes, then remove to cook slightly before serving.
Storage: The muffins can be stored, covered, at room temperature for up to 2 days or frozen for up to 1 month. To freeze, wrap each muffin individually, then place them in a resealable plastic bag or airtight container.