Suzie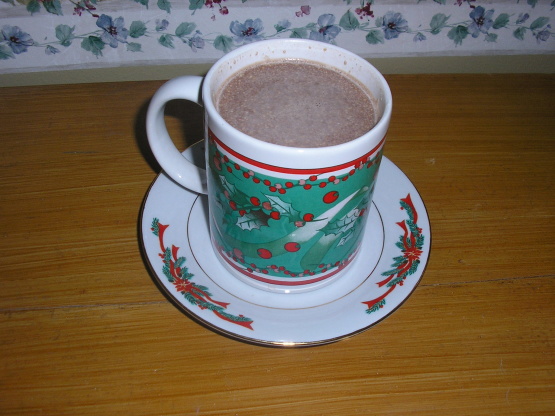 Wonderful warm drink for cold weather.

Top Review by Debber
Nice breakfast warm-up drinkee for the first day back to school after CHRISTmas vacation. I liked the whisper of orange flavor from the rind (I only used about 1/4 tsp), but my kids didn't care for it at all, so I think next time I'd use some orange flavoring instead. DD added that she thought the cocoa left a "chalky" feeling in her mouth. Hmmm. I thought it was perfectly flavored other than needing a bit more sweetness to jump-start my day. Made for *Comfort Cafe* Snow Queen version, 2010.
1⁄3 cup sugar
1⁄3 cup cocoa
1 1⁄2 cups water
4 1⁄2 cups milk

2 -3

tablespoons orange rind, finely grated
1⁄4 teaspoon vanilla
In a large saucepan, stir together the cocoa and sugar; add water.
Bring to a boil, stirring constantly.
Allow to boil for two minutes, still stirring.
Add milk and orange peel and heat to serving temperature (Do NOT boil).
Add vanilla and serve.