Orange Chocolate Drop Cookies
Annacia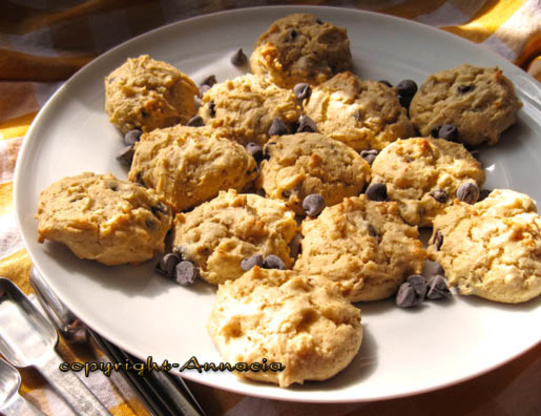 From the cookbook I received from my sweet friend, "A Chocolate Christmas" This is another great cookie recipe for the holiday cookie trays and has a unique flavor with the orange juice. I hope you enjoy them too.

These cookies make happy faces on everyone who tries them. They are yummy and sunny tasting with the orange. I got 18 but then I also got bigger cookies :D. Used Splenda brown for the sugar and 1/3 cup of chocolate chips but otherwise they were made as directed. As my over runs on the hot side I lowered the temp to 360 and baked for the full 10 mins. They came out gorgeous with a nice little crispness just around the outside bottoms, soft and almost fluffy on the inside. Houston, we have a keeper. :D
Preheat oven to 375°F.
In a medium bowl, beat butter.
Gradually add the brown sugar, beat until light and fluffy.
Add the egg, orange zest and orange juice, and mix until smooth.
Add baking mix and mix well.
Stir in the walnuts and chocolate chops.
Drop by teaspoonfuls onto ungreased cookie sheets.
Bake for 10 minutes.
Remove from cookie sheet after 5 minutes to wire racks to cool completely.