Orange Chocolate Chip Bread
Boomette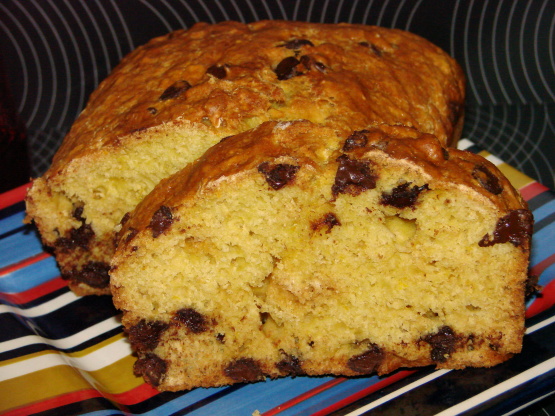 The original of this slightly tweaked recipe was found in the 2008 cookbook, Taste of Home Baking Classics.

We all loved this 'bread'; based on earlier reviews I reduced the sugar to 3/4 cup and when I saw the amount of dough I decided to cut the chocolate chips back to approx 1/2 cup. I think those measurements were right for us. My orange was very juicy and 1/2 an orange contributed 1/3 cup juice. The orange flavour comes through really nicely. This recipe will definitely be made again!
Preheat the oven to 350 degrees F & grease an 8"x4" loaf pan.
In a small bowl, combine orange zest, orange juice & boiling water & let stand for 10 minutes.
Meanwhile, in a large bowl, whisk together the flour, sugar, baking powder, baking soda & salt.
In another bowl, beat together the egg, butter & vanilla, then when the OJ mixture is ready, add that to this mixture, before stirring this mixture into the flour mixture just until moistened.
Fold in the chocolate chips, then pour into the prepared loaf pan & bake 55-65 minutes or until a toothpick inserted near the center comes out clean.
Cool in the pan on a wire rack for 10 minutes before removing the loaf from the pan & putting it upright on the wire rack.