Orange-Chipotle Pork Chops
Heydarl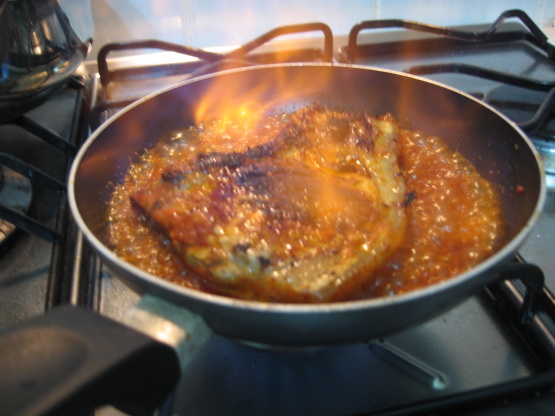 These simple pork chops have a sweet but spicy flavor. This dish requires a flambe, but if you cannot (or are afraid to do so), you can always add the orange liqueur to the marinade before you reduce it, though the result is not quite the same. From Jaime Ernesto Arrieta, San Salvador, El Salvador.

This made for a quick and tasty pork chop. I made the sauce as written and it was just too hot. We ended up scraping it off the chops. Next time, I will make with half the amount of chiles and it should be perfect.
In a blender or food processor, combine chipotles, salt and orange juice.
Place in a shallow dish together with pork chops and marinate in the refrigerator for at least 1 hour.
Take chops out of marinade; reserve marinade.
Put marinade in a small saucepan and reduce until 1/3 of the liquid remains, about 10 to 15 minutes.
In a frying pan, place pork chops and cook in medium-high heat until cooked through, about 15 minutes.
Take chops out of the pan, and drain any excess oil.
Put the pan on high heat and cook until no liquid remains and a glaze is formed on pan.
Take pan away from the heat and put the pork chops back on the pan.
Add the 1/4 cup orange liqueur and flambe.
When the flames die out take chops out of the pan and keep warm.
Put the pan back on the stove and add the reduced marinade.
Heat until starting to boil.
Put the chops in a serving platter and pour some sauce on top.
Enjoy.