Orange Chicken Koresh Iranian
awalde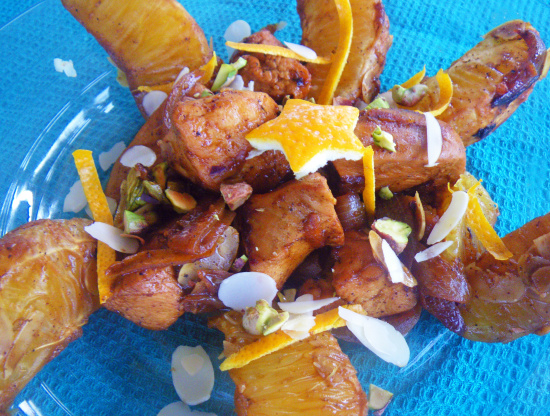 From Laura Kelley book, The Silk Road Gourmet; looks beautful; it is supposed to be Iranian; sweet and sour.

Top Review by awalde
This is a royal dish! Hard to belive that nobody discovered this gem for such a long time!
It's delicious and I couldn't expect it better.
I only had to renounce to the carrot since we finished them in advance.
Thanks a lot for this dish that we surely will prepare again!
Heat sesame oil; saute chicken; remove chicken to a platter.
Add onions to oil; add orange zest, cinnamon, cardamom, nutmeg, cumin, coriander, salt, and pepper; stir.
Add chicken back; roll chicken around to coat in the spices.
Add orange juice; bring to near boil; cook 20 minutes covered; stir occasionally so it doesn't burn.
Cook on low until chicken becomes tender.
Combine vinegar, lime juice, sugar, and saffron water in medium saucepan; heat for 10 minutes until hot; add orange segments; stir well.
Add carrots, almonds and pistachio nuts to chicken mixture and cook for 15 minutes more.
When done add lime juice mixture; stir.
Garnish with herbs like cilantro.