awalde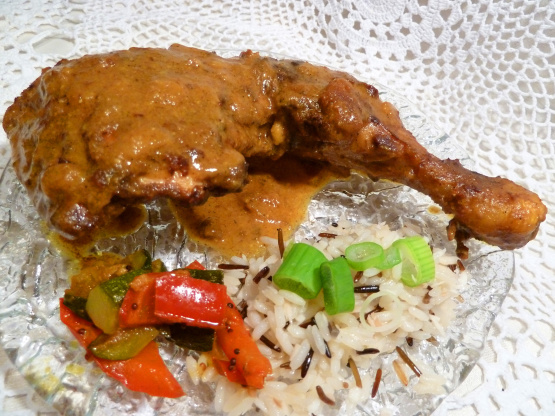 This is a different take on chicken curry that I got from a friend... Even kids find this one absolutely scrumptious! Serve with basmati or jasmine rice.

Top Review by awalde
We enjoyed the chicken very much.
I had to adapted the recipe to the ingredients I have at home. For this reason I used chicken legs!

I'm preparing very often curries without "curry powder" because I mix my spieces every time in different way.
For this recipe my curry powder was a mix of: garam masala, turmeric and little tandori masala.
I used water instead of broth, because there is already chicken in the dish, but I added the almonds.
I had to wait longer as expected to serve the dish. So I put this in the oven (very low heat) and I added little water. The dish had enough time to develop his taste and come out delicious, a 5 star recipe.
Every curry mix is different, maybe with another this will be only a 3 star recipe!
Toss together chicken, flour, curry powder and chili powder until chicken is well coated.
Heat oil over medium heat in a heavy bottomed pot.
Cook chicken until browned all over, about 6-7 minutes.
Remove from pot.
Stir-fry onions till translucent
Add broth and orange juice and bring to boil.
Return chicken to pot and cook until sauce begins to thicken.
If needed add a teaspoon of flour if sauce is not thick to your liking.
Add salt as desired.
Let simmer for 15 minutes.
Mix in cilantro and almonds.
Serve over rice and enjoy!