awalde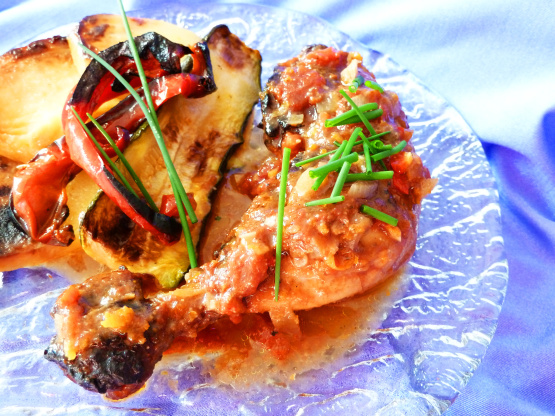 Juicy and tasty chicken with orange flavor. This recipe is the result of combination and remixing of recipes #388855 and #309422.

We really enjoyed this chicken dish, awalde. The fresh tomatoes really flavored the dish wonderfully. The orange flavor didn't come out much for me. I wonder if maybe I used an orange that hadn't ripened enough and just didn't yet have a prominent orange flavor. But the fresh tomatoes and fresh green onion slices that I sprinkled on top at serving time (along with the great choice of herbs and other ingredients) really made this dish taste garden fresh. It's definitely a Keeper of a recipe and I'll definitely make this again but will tinker a bit to bring out the orange flavor a bit more. I thought maybe instead of the white wine I would try a shot or so of orange liqueur, to enhance the orange flavor in this dish. Maybe next time.
Combine all ingredients except chicken and spring onions or chives.
Marinate chicken in the sauce for 2 hours or more (best overnight).
Remove chicken from marinade, place chicken tight in a baking mold and broil until nicely browned about 10 minutes per side, or grill on the BBQ.
Pour marinade over chicken in the mold and bake for 20 minutes at 180°C (350°F) or until through.
Top with spring onions or chives.
Serve hot with fresh salad and/or grilled vegetables.