Debber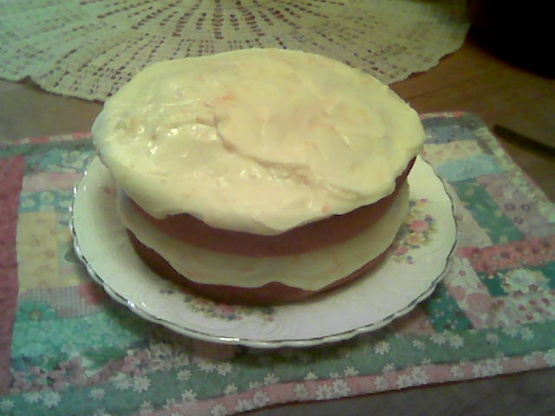 I first made this cake 25 years ago for a friend's birthday -- It was so well received that I continue to make it from time to time for special occasions!

was very easy to put together. came out light and fluffy. Didn't have any orange zest on hand so had to do without. If not using zest a tsp of orange flavored extract would be a good idea to help bring out the orange flavor. Next time I make this I think I'll add a drop or two of orange food color just for a little color contrast between the cake and the icing. overall we really enjoyed this cake and will be making for the next social function when asked to bake. Thanks Syd for adding to my keeper box. Made for 1-2-3 hits tag game.
Preheat the oven to 375 degrees F, then grease & flour two 9" round cake pans.
Sift or whisk together the flour, baking powder & salt, then set aside.
In a large mixing bowl, cream the butter, then slowly add the sugar, blending well.
Add the eggs one at a time, beating well after each is added.
In another bowl, mix together the orange juice & zest.
To this orange mixture, alternate adding 1/2 the dry mixture, then 1/2 the liquid mixture, & repeat, blending well.
Add this final orange mixture to the creamed butter mixture & blend well.
Pour the batter into the prepared cake pans & bake for 30 minutes.
Cool in the pans on a wire rack for 10 minutes, then remove from the pans & cool completely.
For the frosting, melt the butter, then combine it with the orange juice & zest, beating well.
Slowly add the powdered sugar & beat well.
Place one cake layer upside down on a serving plate &, using less than 1/2 of the frosting, frost the first layer, staying at least 1 1/2 inches from the edge.
Put the second layer upside right on the bottom layer, pushing down lightly to secure it.
Frost the top of the cake, allowing some of the frosting to run down the sides.