Mandy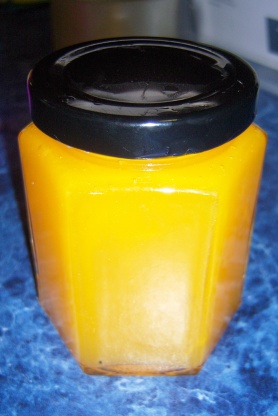 This is a little different to the other orange butter recipes here as it uses less butter and also uses custard powder to help thicken, it's not really thick like a butter but more like a spread. It's really economical & quick to make not to mention tastes great.

Loved that this had less butter and that it was so quick to make. Thickening with the custard powder worked really well: not a method I'd used before. I bought several lots of oranges from different sources during the week, and used the juiciest and most flavoursome from these in making this orange butter spread. It's such a key ingredient that that seems essential to me. Next time, because I also love lemon butter, I'm going to double this recipe and use one lemon with the oranges. Made for 1-2-3 Hit Wonders.
In a saucepan, combine all ingredients, bring to the boil & let simmer for 5 minutes.
Pour into warm sterilised jars, seal & label.
Keep stored in the refrigerator.