Diana 2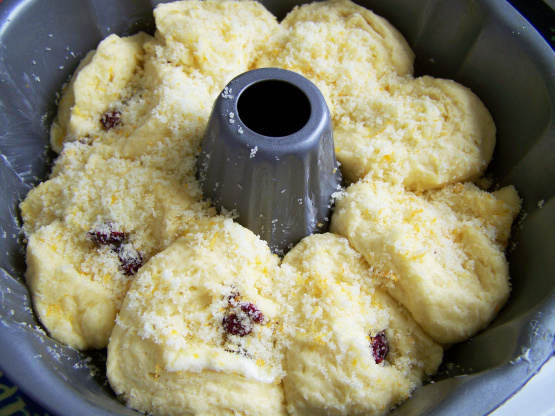 I was going to post this recipe and found it was already on the database!!! Original source from the great Canadian Living Magazine. Update 4/2010 I made these buns again and they are soooo yummy, I love the sweet orange flavour of the buns! I wanted to take a photo, but I forgot!! Oh well, an excuse to make them again!!
Whisk flour, sugar, baking powder and salt.
Cut in butter until in fine crumbs.
Beat eggs with orange juice; drizzle over crumbs, tossing with fork to moisten.
Turn out onto a floured surface; knead gently for 30 seconds.
Roll or pat into an eight inch square; spread with butter.
Mix the orange sugar and sprinkle over dough.
Roll up jelly roll fashion; cut into eight slices.
Place, side by side and cut side down, in a greased 9 or 10 inch tube pan.
Bake in centre of a 425 oven for 35 minutes or until golden.