Pikake21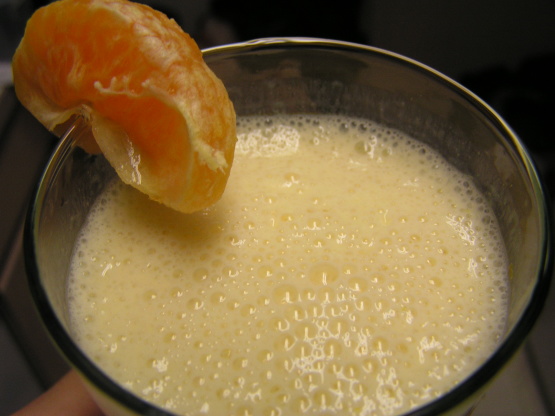 Whip up this frothy cooler in minutes, it tastes like an old-fashioned Creamsicle. For best results, start with ice-cold soy milk and use freshly squeezed orange juice. Creamy, custard-like silken tofu adds extra body. For additional calcium, use calcium-fortified orange juice. Points 2.

This was very good, and the BF and I had it for a quick/late breakfast shake. We omitted the ice cubes, because we both cannot stand them, and it made for a very creamy mix. It reminds me of a drink that I get at the Nordstrom E-bar, but i'm sure was much better for me with the added silken tofu. Thanks for a great breakfast treat, Dancer!
In a blender, combine the orange juice, soy milk, tofu, honey, orange zest, vanilla and ice cubes.
Blend until smooth and frothy, about 30 seconds.
Pour into tall, chilled glasses and garnish each glass with an orange segment.