Tezi3885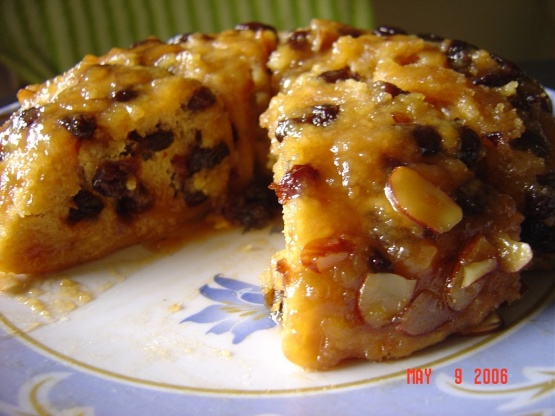 An easy to make dessert. Cant go wrong

It was too good hum yummy............
6

slices bread (crumbled)

2

tablespoons butter
1⁄2 cup brown sugar

2

eggs (lightly beaten)
1⁄2 cup flour

1

teaspoon baking powder
1⁄2 cup orange juice

1

teaspoon grated orange rind
1⁄2 cup dried fruits (raisins, cherries etc)

2

tablespoons slivered almonds

2

tablespoons maple syrup
Sift the flour and baking powder and mix well.
In a seperate bowl, mix the butter and sugar and beat till light.
Add the beaten eggs and mix until well blended.
Next add the fruit, bread crumbs and orange rind.
Fold in the flour and orange juice alternately.
In a pudding mould, Layer the bottom with maple syrup.
Sprinkle the almond slivers on it.
Pour the mixed pudding batter into the mold over the syrup it.
Put a lid on the mold and put it in a rice cooker.
Pour water in the cooker upto half the mould height.
Switch the cooker into cooking and let it cook for 1 hours.
After 1 hr remove the mould from the cooker and let it cool for 5 minutes.
Invert the mould into a plate and cut into slices.
Serve warm with custard.