Jostlori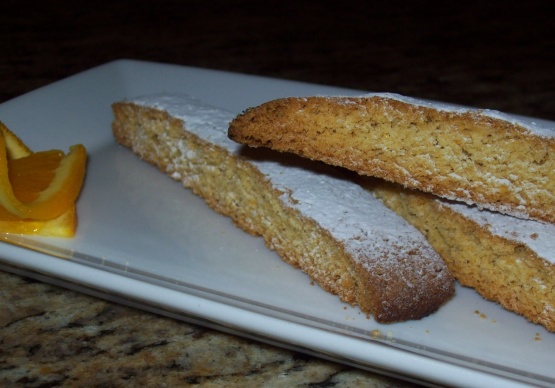 These crisp, crunchy cookies are based on the classic Italian version. These contain no nuts and are a slightly softer than the original version, which makes them more child friendly (mine adore them!). Try them with your mid morning cup of coffee..

I don't know why I've always been intimidated by biscotti recipes... But this, my first attempt, was really good! The orange flavor is wonderful and the texture is absolutely perfect - I think it must be the cornmeal (had no polenta on hand, but no matter as the cornmeal was just great). Unfortunately, ovens are dreadful in this country, so the bottoms burned on the first bake. But we managed to save the day by cutting off the burnt bottoms and then returning to the oven for the second bake. That's why the finished product looks a bit "short". LOL. They taste fantastic and we'll make them again and again!!! Made for Fall PAC 2012. Thanks, Noo!
Preheat the oven to gas 3/160°C/325°F.
Grease a baking sheet.
Beat together the butter and sugar until smooth. Beat int the egg, then the orange rind, juice, flour, baking powder, cinnamon and polenta.
Tip the mixture on to a lightly floured surface and knead. Place dough on the baking sheet and flatten with the palm of your hand to make a rectangle approx 25 x 18 cm.
Bake for 25 minutes, then remove from the oven and leave to stand for 5 mins until slightly cooled. Using a sharp knife, carefully cut the mixture widthways into thin sticks about 1 cm wide.
Space the cookies out slightly on the baking sheet, then bake for a further 20 minutes until crisp.
When cool, dust with icing sugar.