vrvrvr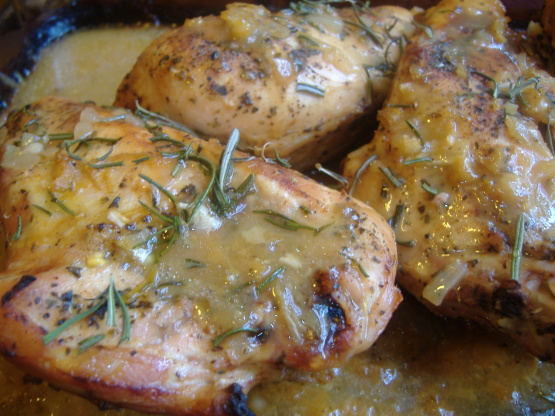 A quick and easy dish with some real potential. Persoanlly, the chicken was a little on the bland side - I should have tried the fresh rosemary as vivmom suggested. I also think the sauce should have been just a little sweeter. All in all, I'll probably make it again just to experiment with the flavor a bit more.
Arrange chicken in shallow baking pan, breast side up, not overlapping.
Sprinkle with onion and seasonings.
Blend flour with 1/2 c orange juice, stir in the remaining juice and pour over the chicken.
Bake, uncovered, basting occasionally at 350F for 1 hr. or until tender.
Serve the chicken over noodles or rice on a warm platter.
Stir the pan juices to blend and pour over the chicken.