MsBindy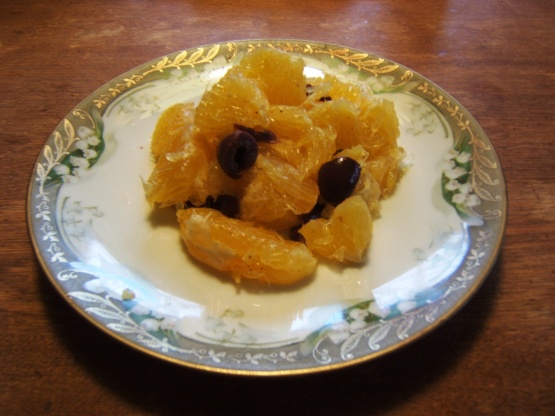 Here is another Moroccan salad dish from "The World of Spice". Serve this with other salads I've posted (such as Lemon Salad, Spicy Carrot Salad and Grilled Green Pepper & Tomato Salad) for an authentic set of appetisers. Recipe posted for Zaar World Tour 2005.

I have been making this salad for years. it is always a hit! My version of it is a bit different: I add a couple of finely chopped garlic cloves, and instead of chilipowder, I use harissa paste. The result is fruity and spicy! /Martina
Cut the peel and pith from the oranges, then divide into segments (reserving any juice) leaving them whole or chopped as preferred.
In a bowl mix with olives with the orange segments and juice, add the lemon juice, cumin, chilli powder, sugar and salt.
Serve chilled.