Orange and Lemon Tea Fizz
gailanng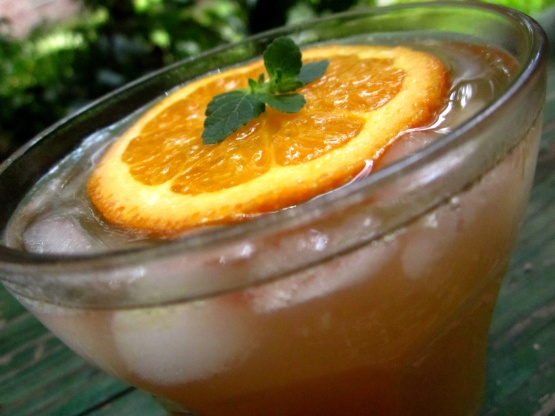 This beverage recipe was found in the June 2009 Best Recipes cookbooklet, Summer Salads & Sandwiches. Preparation time includes neither the time needed for brewed tea to cool nor the time needed for the fruit-flavored tea to chill.

The sugar was too much for me,so I cut down the amount to about 2 T. I didn't squeze the tea bag,one of my friends who taught me how to make English tea,said it turns my tea bitter. I liked this combo.
Pour boiling water over the tea bag, then cover & let brew for 5 minutes, before removing tea bag & squeezing the wet bags over the container of brewed tea.
Stir in sugar & let cool, then pour into a large pitcher.
Add remaining ingredients, EXCEPT for the club soda, then chill at least 2 hours.
Just before serving, add club soda, then pour into ice-filled glasses & garnish each glass with an orange slice.