awalde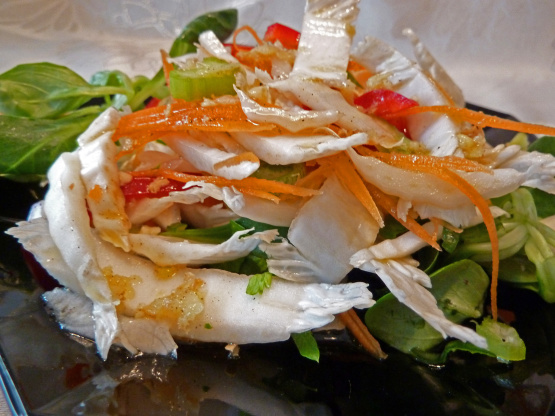 Out of Homes and Gardens Diabetic Living booklet. I think it would be very refreshing. Times are an estimate. It was suggested it be served with soy and sesame chicken legs.

Love it! I had to use frozen snow peas, but aside from that it was one of the freshest-tasting salads I've had in a long time. While I was squeezing the orange for the juice I also zested it and tossed the zest into the dressing as well. I also grated the ginger on my zester, the flavor was fabulous!
Shred cabbage.
Trim snow pea sprouts.
Coarsely grate carrot.
Finely slice celery on the diagonal.
Slice spring onions (scallions) thinly on the diagonal.
Put all the salad ingredients into a bowl and lightly toss together. Put on the dressing just before serving.
For the dressing, crush garlic clove and finely grate ginger.
Put all the ingredients into a screw top jar seal and shake.