Orange and Capsicum Salad With Lemon Balm Dressing
Tisme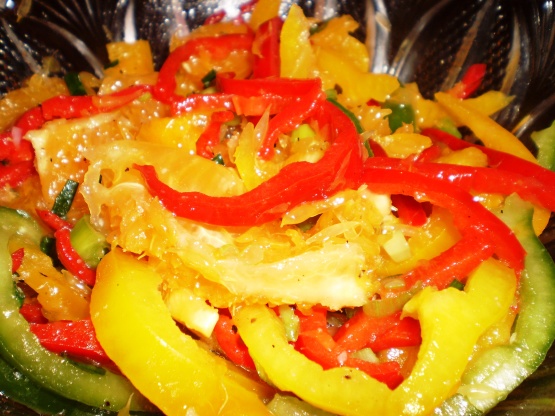 This salad is posted per a request.

This was a very beautiful salad. It is very easy to prepare, yet would look lovely as the first course for an elegant dinner party. I did need to add a little salt and pepper to the dressing, as well as several pinches of sugar - it didn't quite have enough flavor. I was surprised that the lemon balm didn't really give the dressing as much flavor as I expected. Nevertheless, this was still a tasty, lovely salad and one I will make again.
Combine capsicum peppers, orange segments, and green onions in a large bowl.
Pour over the dressing, cover, and refrigerate for several hours before serving.
DRESSING: Combine all ingredients in a jar, shake well.