Orange and Apricot Glazed Chicken Cups
jenne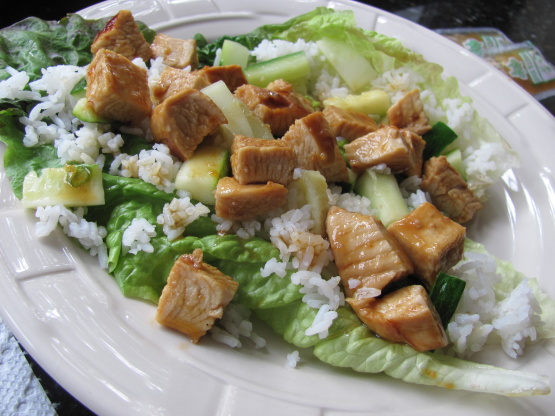 A 30 minute meal from www.parents.com. Per the website, "Fruit-flavored chicken (reminiscent of sweet & sour takeout) gets tucked inside a grilled lettuce bowl. Yep, you can grill heartier lettuce varieties like romaine, for a sweeter, smokier flavor that the kids will probably prefer to the ordinary leaf." I have to say that I think we would have preferred iceberg lettuce at room temp that we could really pick up and eat rather than the romaine because it had to be eaten with a knife and fork.

After all that I forgot the lettuce leaves! So ours just ended up being served over rice, and as my husband doesn't like green beans I put snow peas, bok choy and red capsicum in with it instead. But it was delicious, perfect blend of sweet with subtle sourness and not sticky. Our 10-month-old liked it too!
For glaze, in a blender or small food processor, combine the apricot preserves, orange juice concentrate, soy sauce, vinegar, and garlic. Cover and blend or process until smooth. Remove 1/4 cup to brush over chicken. Set remaining glaze aside.
Season chicken lightly with salt and pepper. Brush with some of the 1/4 cup glaze. For a charcoal grill, grease the grill rack. Place chicken on grill rack over medium-hot coals. Cover and grill about 10 minutes or until chicken is done (170 degree F.), turning once and brushing again with glaze halfway through. (For a gas grill, preheat grill. Reduce heat to medium-high. Add chicken to greased grill rack. Cover and grill as above.) Remove chicken from grill and let rest for 5 minutes. Discard any remaining brush-on.
While chicken is grilling, toss green beans in a bowl with oil and a dash salt and pepper. Place in a grill wok and place on the grill beside chicken the last 5 minutes of grilling, stirring once or twice. Remove and cool slightly. Cut beans crosswise into 1/2-inch pieces.
Chop chicken. In a medium bowl toss chicken and beans with about 1/4 cup reserved glaze. Spoon rice onto lettuce leaves. Top with chicken mixture and drizzle with any remaining glaze. Makes 4 servings (2 cups each).