Open-Faced Roast Beef Sandwich
Annacia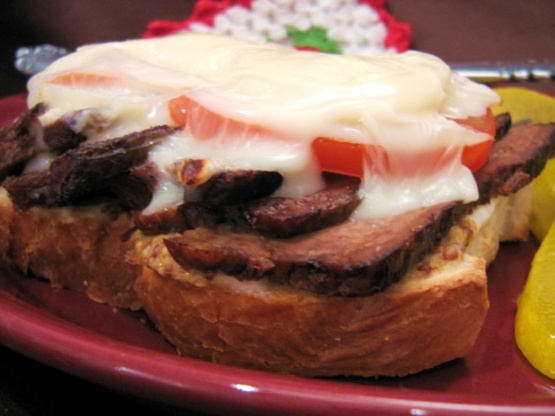 The amounts listed are only a guideline you may adjust to taste, make certain that the cheese is always on the top, this is a great way to use up cooked roast beef or deli roast beef --- FOR PARTY APPETIZERS instead of using buns replace with small party size pumpernickle bread slices that have been toasted, follow as directed only using smaller amounts.

What a great easy work night meal! It tasted so yummy and only took minutes to make! Thanks for the great idea!
2

hoagie rolls, sliced and toasted

8

teaspoons mayonnaise (use about 2 teaspoons per slice (or more)

4 -8

teaspoons coarse ground mustard (use about 1-2 teaspoons per slice or to taste)

1

lb thinly sliced cooked beef

1

large tomatoes, thinly sliced
thinly sliced red onion (use as much as desired)

4 -8

slices mozzarella cheese or 4 -8 slices provolone cheese
salt & freshly ground black pepper (to taste)
Set oven to broiler heat.
Place the toasted bun halves on a baking sheet.
Lightly spread with mayonnaise then mustard.
Layer as follows starting with roast beef then sliced tomato, red onion, salt, pepper the sliced cheese on top.
Broil 3-6 inches from the heat for about 2-4 minutes or until the cheese has melted and is lightly browned (keep an eye on it this will brown fast).
Delicious!