Open Faced Crab Sandwiches
gailanng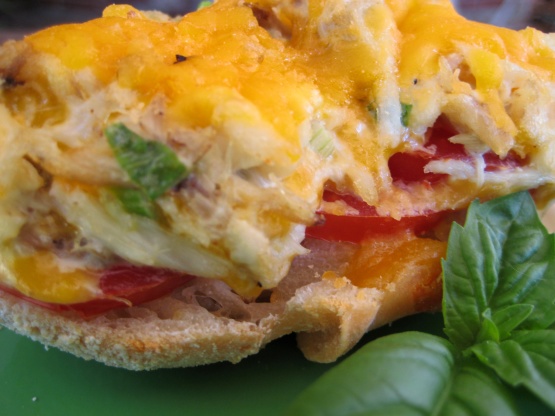 My ds likes these with extra shredded cheese sprinkled over the top before broiling.Recipe source: Simply Seafood (Winter 1991)

I'm eating these as I write...so very good. I had to use hamburger buns because that's all I had, also my local grocery was out of imitation crab so I bought imitation crab/shrimp and it's so delicious!!! I think I'll try this on french bread the next time as I love french bread, Thanks for sharing a keeper.
Preheat broiler.
In a bowl, combine crabmeat, green onions, cheese, mayonnaisse and cayenne (or hot pepper sauce).
Slice tomatoes into eight slices.
On a baking sheet or broiler pan place English muffin halves and broil 3-4 inches from heat until golden (3-5 minutes); remove from oven.
Place a tomato slice on each muffin half and top with crab mixture (about 1/2 cup per muffin half)and then sprinkle with extra shredded cheese, if desired.
Return to oven and broil until cheese browns. (3-5 minutes).