Open Faced Corned Beef & Cole Slaw Sandwiches
Kim127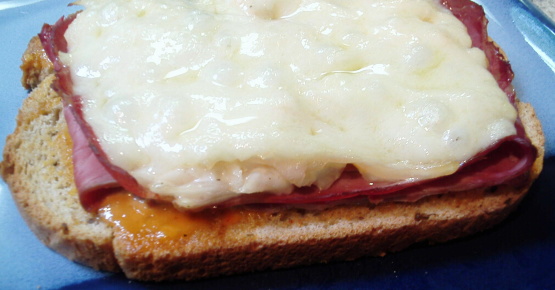 These are reuben-ish sandwiches for people who don't like saurkraut (like my kids). They are so easy to make and very tasty. (I like to make these for myself, substituting saurkraut for coleslaw, but I wanted to post my kids' version.) The recipe is courtesy of a Land-O-Lakes e-mail.

this was an awsome sandwich but i put a little twist on it add sourkraut on the bottom of the corned beef it was amazing
Heat oven to 350°F
Spread each slice of bread with 2 teaspoons spicy brown mustard.
To assemble each sandwich, layer 1 slice bread, 2 slices corned beef, 1/4 cup coleslaw and 1 slice cheese.
Place sandwiches onto ungreased baking sheet and bake for 8 to 10 minutes or until cheese is melted.